Mechanical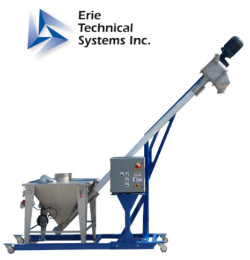 The FlexMAX® flexible screw conveyor manufactured by Erie Technical Systems Inc. reliably feeds a variety of bulk materials and comes with an inlet hopper, screw casing, helical screw, discharge head and a motor with gear reducer. The FlexMAX® is commonly used with UltiMAX™ bulk bag unloaders, bag break stations or large storage hoppers.
Features
• Low-cost screw conveyors for quick delivery
• true 60° feed hopper sides and FASTFLO rounded corners eliminae product hold up • A flexible tube for routing around fixed objects
• Dust-tight, completely enclosed
• Low maintenance with only one moving part
• Simple disassembly for easy cleaning
• 3", 4", 5" and 6" nominal sizes for a wide range of flow rates
• Feed rates up to 450 cubic ft/hour in conveyor lengths up to 40 ft
• Product contact surfaces in 304SS and UHMWPE
• Add-on options for a custom machine
Erie Technical Systems Spiral Elevator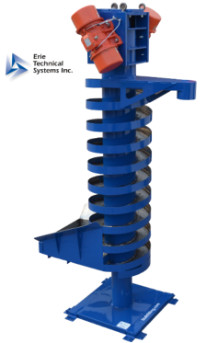 The SpiralMAX® vibratory spiral elevator is a unique solids conveying conveyor used to move material vertically either up or down a spiral flight. It offers significant advantages over traditional belt conveyors or drag conveyors including a much smaller footprint and no moving parts in the product stream.
Features
• Discharge heights as high as 25 ft
• Material transfer rates as high as 500 cubic ft/hr
• Stainless steel or carbon steel construction
• Quiet Trouble-free long term operation
• No moving parts in product contact
• Gentle transfer to reduce product breakage
• Optional Custom hoppers and chutes to match existing equipment
• Optional Dual magnetic starter for the rotary electric vibrators
• Optional Dimple Plate flights and Cooling jackets
• Optional Dewatering cutouts and water collection