Odor Removal
Activated Carbon
Clayton Equipment Company offers a line of Carbtrol activated carbon filters for adsorption of organic compounds from contaminated water and air streams.
Liquid phase filters have capacities up to 200 gpm and are available in low pressure or high pressure design. Vapor phase filters have capacities up to 20,000 CFM and are available in up flow or radial flow design. A variety of high activity activated carbons are available to suit your application. All equipment is designed for a low pressure drop.

---
Odor and VOC Control
The Passive Ventilation model is recommended for tank vent, landfill, sump and similar applications. Canisters are 2' Diam x 3' H and contain up to 200 lb. of activated carbon. Flow rates are as high as 500 CFM.
Advantages of Carbtrol Odor Control Systems are:
Simple, no operator attention required
Proven technology
Economical
Always ready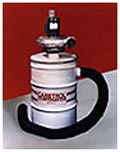 Applications such as VOC control, pumping stations, collection systems, drum filling operations, room odors, work areas and similar are recommended to use the Forced Ventilation Activated Carbon model. These models feature attached blower systems for a complete and compact solution.
The blower is on the discharge side so as to eliminate VOC leaks. TEFC motors are standard and explosion proof are available. Canisters are 2' Diam x 56" H and provide flow ranges up to 1,000 CFM.
The high Flow Activated Carbon model is recommended for treatment plants, large work areas and similar applications. With up to 23,000 lb. of activated carbon and up to 20,000 CFM the radial flow design offers small footprint for comparable capacity. Blower packages are available. Sizes range from up to 10' Diam x 15' H.
---
© 2023 Clayton Equipment Company LLC • North Texas Office (214) 696-6960 • Gulf Coast Office (254) 644-5358