---
City of Frisco, TX HHW Center
The City of Frisco has championed The Green Way for their residents for some time now. Note the official car in the photo to the right.
Recently The City has updated their HHW Center by purchasing a Safety Storage building with 4 fire-rated compartments to store chemicals and hazmat materials until they can be properly disposed of.
Arrival of the Safety Storage building: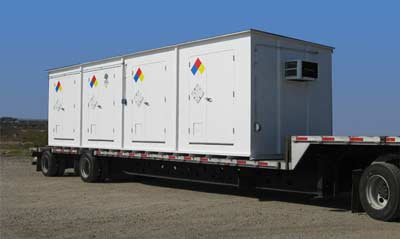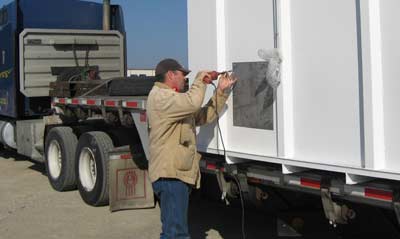 Above left: The Safety Storage building arrives on a flatbed trailer. Above right: Safety Storage Installer Max begins set-up work even before the building is off-loaded.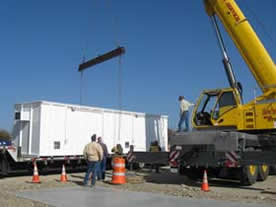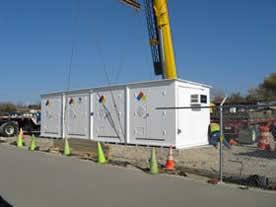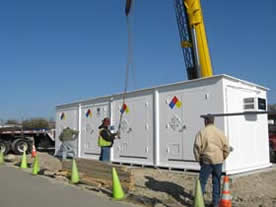 Above left: A crane is required to off-load this Safety Storage building. Above center: On the pad. Above right: Removal of slings.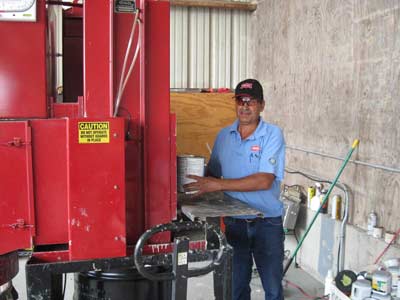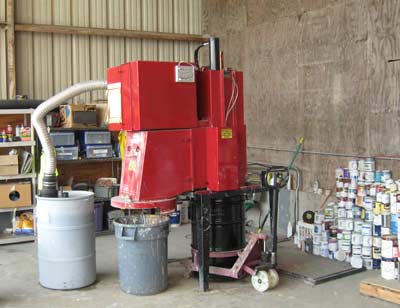 Above left: Operating the TeeMark Can and Aerosol Crusher. Look, no respirator mask required. Why? Above right: Because the vapors and gasses are removed during crushing and taken through the flex-hose to the carbon filtration drum on the left side of the crusher. More about The City of Frisco.
Back to Index
---
EQ Waste Management, Carrollton, TX
One of EQ's corporate guidelines includes:
Minimizing the environmental impacts of our services, operations and products, through application of sustainability principles such as recycling, reuse, pollution prevention, emergency preparedness and conservation of materials and natural resources.
One way in which they achieve this is through use of Safety Storage Inc Chemical Storage buildings to protect the environment from the chemicals they keep on their site. Recently, EQ in Carrollton installed five (5) fire-rated Safety Storage buildings with roll-up doors and pallet platforms so fork lifts can be used to insert and retrieve chemicals.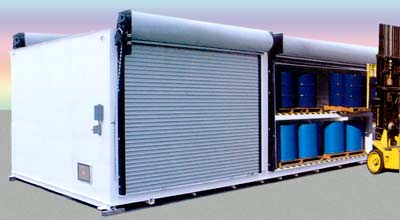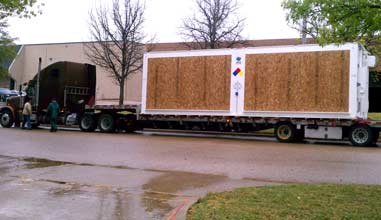 Above left: A typical Safety Storage building configured for pallet-based chemical storage and roll-up doors; Above right: One of 5 flat bed trucks arriving with the buildings on a rainy day. Plywood sheets protect openings where roll-up doors will be installed after off-loading.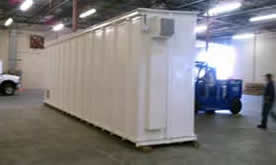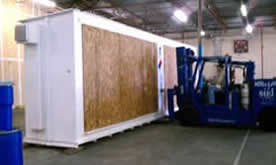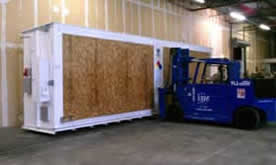 Above: Building 1 of 5 is off-loaded by fork lift and gently moved into a final location. The other 4 buildings followed and then the roll-up doors were installed and electricity was brought to the load panel on each building. More about EQ.
Back to Index
---
City of Denton, TX Home Chemical Collection Center
The Denton Solid Waste Dept recently held the grand opening of its new Home Chemical Collection facility. You can learn more about their program at www.cityofdenton.com.
Once hazardous household waste chemicals are collected by the curbside residential collection program, they are brought to this center for professional recycling or safe disposal.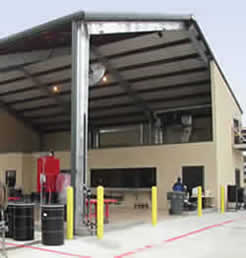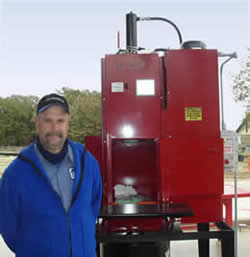 An example of safe disposal is their use of a TeeMark Can Crusher that pierces paint cans/pails removing reusable paint, then crushes the cans into recyclable scrap metal and ejects them into a separate drum.
Back to Index
---
Ft Bend County HHW Facility has expanded.
When Ron Drachenberg first bought their three Safety Storage Inc Hazardous Storage Buildings, the buildings were just set out on the lot with no surrounding permanent facilities.
Now this amazing, top-of-the-line facility is an example for others in the country!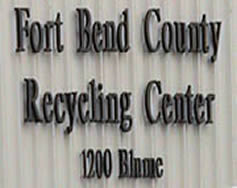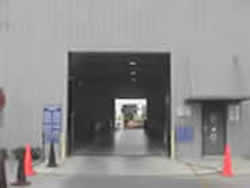 Ron and Bill Petty utilize a drum crusher, balers, a TeeMark paint/aerosol can crusher, 6 haz-mat rooms and a well-organized sorting area, all within a beautiful metal building. The baler turns a cotton trailer full of plastic bottles into one bale! The TeeMark Can Crusher pierces the aerosol can or pail removing reusable paint, then crushes the can into recycled metal and ejects it. A Franklin Miller Inc shredder reduces the volume of tires and other large items in preparation for their disposal.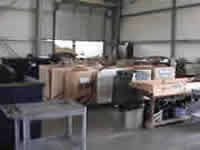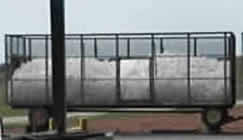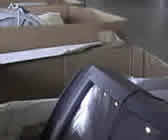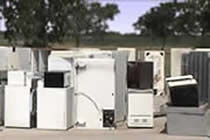 The freon from old appliances is gathered by a local school and then the rest of the appliance is sold for scrap metal. The facility also takes e-waste, fishing line, tools, car bumpers, fertilizers, car oil/filters and more.
Ron and Bill are doing an impressive, outstanding job at building and running this fantastic facility! More about Fort Bend County HHW.
Back to Index
---
City of San Marcos, TX
Household Hazardous Waste Collection Facility
The City of San Marcos has opened a new facility for the collection of
household waste from their citizens.

One part of the HHW plan includes a Safety Storage Inc hazardous materials storage building with dual compartments, 2-hr fire rating, secondary containment to prevent spills from reaching the earth, and shelving to accommodate container sizes up to 5-gal.
Photos of the 26'x10'x9' building being installed are below. First, the arrival on flat bed trailer: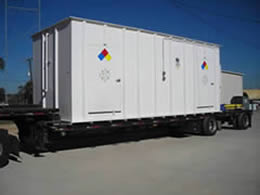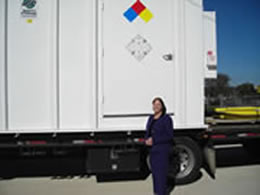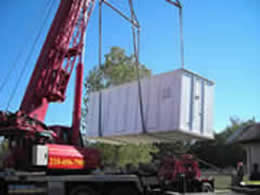 Jo Secrest, Public Works Program Coordinator is shown next to the building before it is off-loaded; off-loading by crane.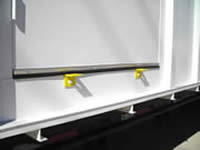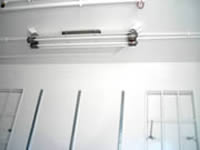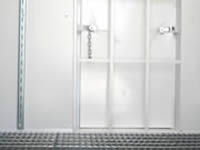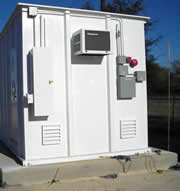 Yellow ramp brackets beneath the door; Interior lighting, shelf brackets and explosion relief panels; Interior view of explosion relief panels and steel grate floor; Exterior end with A/C, Dry Chem, control panels and air vents.
More information about the City of San Marcos.
Back to Index
---
City of San Antonio expands their HHW Center
The City of San Antonio has added an additional Safety Storage chemical storage building to their HHW center.
Now they have three, each with partitioned rooms and multiple doors for safely separating and storing chemicals. The new building is behind the red truck.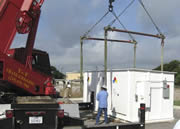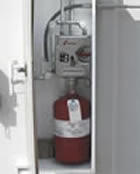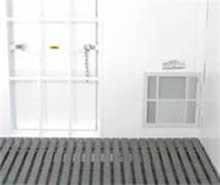 Above: Joseph & Efrain of the City of San Antonio; Off-loading the Safety Storage building; Exterior shot of the Dry Chem cabinet; Interior shot of explosion relief panel, air vent and steel floor grate.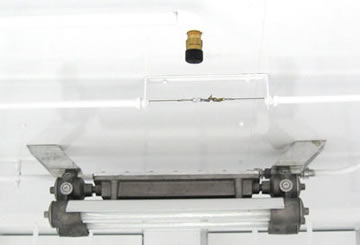 Right: Interior ceiling shot of the Dry Chem nozzle, heat-sensitive fuse link and the explosion proof lighting.
You can learn more about the City of San Antonio HHW program at www.sanantonio.gov.
Back to Index
---
© 2023 Clayton Equipment Company LLC • North Texas Office (214) 696-6960 • Gulf Coast Office (254) 644-5358