NETZSCH MiniMaster
The MiniMaster Laboratory Dispersator produces consistently repeatable dispersions through fast mixing action and notable motor performance.
This high-performance, high-speed unit ensures constant mixing speed, regardless of product weight, viscosity or other variables. It circulates and shears dispersions and emulsions with ease, blending materials faster than other laboratory dispersers.
---
NETZSCH Psi-Mix Disperser
The Psi-Mix inline disperser uses a method in which the solid components are wetted on a large liquid surface, with emission-free, dust-free inline operation.
The combination of vacuum dispersion, shearing and pressure wetting results in homogeneous, fine dispersions with reproducible quality, all at high efficiency levels in a controlled process.
---
NETZSCH MasterMix Dissolver
The MasterMix Dissolver is used for dispersing solids in liquids.
Product is mixed in batches in an exchangeable tank. The speed of the high-speed dispersion disk in the tank can be adjusted by means of a hydraulic lifting column.
---
EKATO Fluid Line Mixers
Process engineered industrial agitators of first-class quality.
A wide range of mixers including custom-built, price competitive solutions with short delivery times for a diverse range of applications. Proven sealing systems are available as well as optimized impeller systems. EKATO agitators are used in a wide range of industrial applications such as:
| | |
| --- | --- |
| • Chemicals | • Raw materials |
| • Paints and printing inks | • Biotechnology |
| • Pharmaceuticals and cosmetics | • Plastics |
| • Fibers and textiles | • Water and wastewater |
| • Food products | • Fertilizers |
| • Mineral oils | • Lubricants |
| • Pulp and paper | • Minerals processing |
---
Fusion Fluid Mixers
The Pro Series of portable and fixed mount mixers are lightweight, but rugged and suitable for applications such as Chemical Processing, Petroleum, Ethanol, Biofuel, Industrial Blending, Industrial Mixing, Waste Water Treatment and Inks and Dyes. They are available in a choice of drive types and mount options.
The Pro Series is also available in stainless for sanitary applications and are in strict compliance with industry standards such as FDA, 3A, USP-VI, and BPE specifications. Common applications include food, beverage, or dairy processing, as well as processes for brewing.
Other common sanitary mixing processes include fermentation, biotech and pharmaceutical.
The Pro Series is ideal for batch sizes from 5 to 3,000 gallons.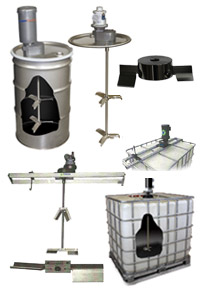 Fusion Drum and Tote Mixers are designed for quick setup and enhanced portability while providing uniform mixing.
Features include quick shipping on standard models and the engineering available for more complex custom designs.
Drum Lid Mount mixers are mounted directly to a standard 22" diameter steel drum lid and can be moved from drum to drum. Custom heavy-duty lids also offered. Bridge and Cap Mount mixers are available for Totes.
All stainless steel versions and folding impeller styles are available.
Need a specialized, custom design? Fusion Fluid Equipment engineers can apply their experience to create the mixer for your special process.
---
Clayton Equipment Company North Texas Office (214) 696-6960 • Gulf Coast Office (254) 644-5358