Fusion Fluid Mixers
The Pro Series of portable and fixed mount mixers are lightweight, but rugged and suitable for applications such as Chemical Processing, Petroleum, Ethanol, Biofuel, Industrial Blending, Industrial Mixing, Waste Water Treatment and Inks and Dyes. They are available in a choice of drive types and mount options.
The Pro Series is also available in stainless for sanitary applications and are in strict compliance with industry standards such as FDA, 3A, USP-VI, and BPE specifications. Common applications include food, beverage, or dairy processing, as well as processes for brewing.
Other common sanitary mixing processes include fermentation, biotech and pharmaceutical.
The Pro Series is ideal for batch sizes from 5 to 3,000 gallons.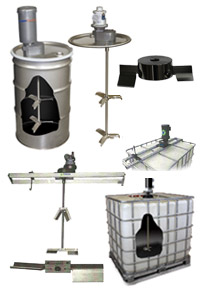 Fusion Drum and Tote Mixers are designed for quick setup and enhanced portability while providing uniform mixing.
Features include quick shipping on standard models and the engineering available for more complex custom designs.
Drum Lid Mount mixers are mounted directly to a standard 22" diameter steel drum lid and can be moved from drum to drum. Custom heavy-duty lids also offered. Bridge and Cap Mount mixers are available for Totes.
All stainless steel versions and folding impeller styles are available.
Need a specialized, custom design? Fusion Fluid Equipment engineers can apply their experience to create the mixer for your special process.
---
© 2021 Clayton Equipment Company LLC • North Texas Office (214) 696-6960 • Gulf Coast Office (254) 644-5358